Twitter has suspended the new account again.
They've sent us an email which you can see below, explaining that IC has been suspended for being suspended before. Thank you, Twitter, bravo 👏.
---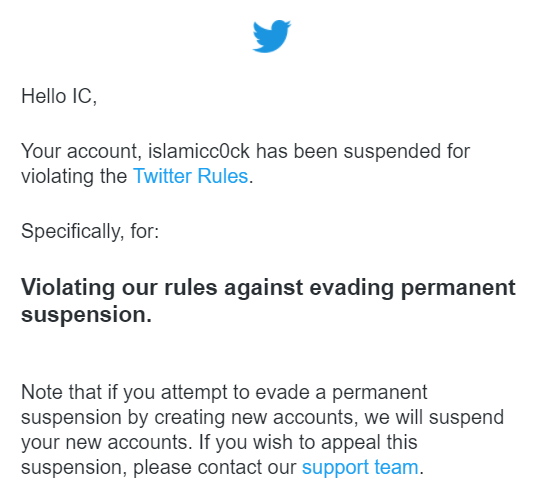 One thing about Twitter that I've learned during my almost 3 years there is that you're absolutely fine to have an account if:
You're offending everyone
You're emotionally abusive towards a specific person or a group of people
You're a p*dophile
You're a convicted murderer
You've committed war crimes
You're a drug dealer
You're not OK to have a Twitter account if:
You're Donald Trump
You're IC
---
IC will not be going back to Twitter in any way, shape, or form; not just because of a perma-ban, but because Twitter sucks.
We're gonna continue on here, doing what we love and we seriously hope that most of you will continue to support us here. You can do so by regularly visiting us, donating to us, writing for us, and by subscribing to our website to receive regular updates.
You can subscribe here:
[jetpack_subscription_form show_subscribers_total="true" button_on_newline="false" custom_font_size="16px" custom_border_radius="0″ custom_border_weight="1″ custom_padding="15″ custom_spacing="10″ submit_button_classes="" email_field_classes="" show_only_email_and_button="true"]
Thank you for your support and we hope to see more of you! 💪